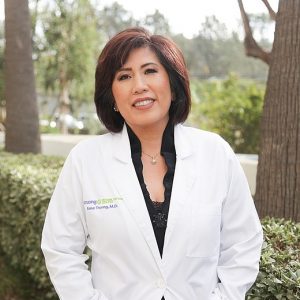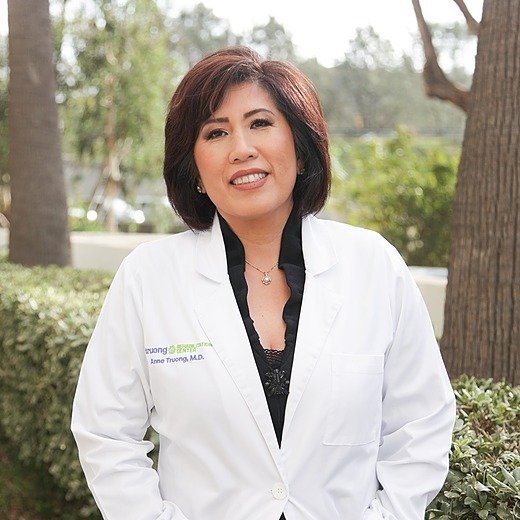 Dr. Anne is a board-certified physician with over 20 years of clinical experience. A physician, entrepreneur, and innovator who thinks outside the box, Dr. Anne is a recognized leader in men's health, particularly in regenerative medicine.
She is passionate about smashing the stigmas and shining a light on the truth about men's sexual health, pleasure, and wellness so men everywhere can access the sexual health care they deserve. She believes in healing the cause of male sexual dysfunction — not just masking the symptoms — and shares her wisdom to teach doctors at conferences worldwide as part of her mission to make better intimate health care accessible to men. Dr. Anne is a firm believer that sexuality is vital to a high quality of life at any age, but especially after 50.
She evaluates and supports each patient from beginning to end to accomplish their individual goals, recapture their vitality, help them age gracefully and live their best life.
Since 2000, Truong Rehabilitation Center offers individualized, comprehensive treatment for those who want to achieve their best intimate self. Providing regenerative medicine for sexuality, aesthetics, and pain conditions with top-of-the-line technology for precision treatments. Dr. Anne's commitment to her patients is uncompromised by the limitations imposed by insurance companies. When she takes on a patient, she dedicates herself to providing the best treatment plan that aligns with their goals.
Her Vitality Warriors, as Dr. Anne affectionately calls her patients who want to live their best life beyond 50, trust her patient first approach and rave about the world-class service and the professionalism she and her team provide. No matter your age, Dr. Anne can help you enjoy the life you deserve because she believes everyone should enjoy their intimate relationship beyond middle age.
Background
Dr. Anne Truong is a highly respected physician, best-selling author and internationally sought-after speaker on the topics of regenerative cell medicine, pain management, and applications for aesthetics and sexuality. With over 20 years of experience, she has earned a reputation as a profound, engaging, and influential keynote speaker who uses her global platform to teach allied health professionals and doctors.
Dr. Truong's book, Erectile Dysfunction Fix, has helped thousands of men regain their ability to enjoy intimate relationships previously ruined by erectile dysfunction (ED). Her book describes the Priapus Shot (P-Shot), an ingenious treatment using Platelets-Rich Plasma (PRP) and the patient's own blood's innate healing abilities to mend injuries and treat ED without drugs or surgery.
Dr. Truong is the sole founder, owner, and president of Truong Rehabilitation Center in Fredericksburg, Virginia. Her practice offers treatment for pain management and rehabilitation, functional medicine, regenerative cellular medicine, and cosmetic and sexual medicine. Long known for being ahead of the curve, she has been using innovative techniques in cell therapy since 2006.
Dr. Truong has been Board Certified in Physical Medicine and Rehabilitation and Electrodiagnostic Medicine for twenty years. Her clinical focus is on anti-aging medicine using her patient's own cells to treat pain, look younger, and feel more vibrant. She believes it is possible to live to the age of 120, and works to keep her patients feeling the way that they had at the age of thirty.
In addition to running her medical practice, Dr. Truong is Assistant Clinical Professor in the Department of Physical Medicine and Rehabilitation at Virginia Commonwealth University in Richmond, Virginia and at Edward Via College of Osteopathic Medicine at Virginia Tech in Blacksburg, Virginia.
Her notable accomplishments include having served continuously as the President of the Virginia Physical Medicine and Rehabilitation Society since 2005; being named the 2018 Entrepreneur of the Year from the Regional Chamber of Commerce; and fulfilling her role as the Ambassador for Women Entrepreneurs Day Organization for the United Nations. She was named a Top Doctor by Northern Virginia Magazine for three consecutive years.
Dr. Truong earned a Bachelor of Science at the University of California at Berkeley, then earned her medical degree at the University of Nevada School of Medicine. She continued her training in Internal Medicine at The University of California at Irvine and completed her residency in Physical Medicine and Rehabilitation at Baylor College of Medicine in Houston, Texas.  Dr. Truong continued as an assistant professor at Baylor, teaching Physical Medicine and Rehabilitation to physicians in training.